This post was originally written for Boy Meets Boy Reviews as part of their 2018 anniversary celebration.
I was a reader long before I was a writer, and a fan of BDSM stories before I became a fan of M/M. Though I'm not an active practitioner myself, BDSM calls to something deep in my psyche (not to mention other places). Here are some of my favorite M/M BDSM reads, along with a note or two about how each one has informed my own writing.
I have to start with the gold standard: For Real by Alexis Hall. I imagine you've already read it, but if you haven't, you should. This book is more than a hot, romantic tale of two kinky guys finding each other and falling in love. It's a literary masterpiece—an absolute manual on how to write distinct voices—that transcends the genre with its cultural and literary references.
As a BDSM story, its uniqueness lies in its steadfast refusal to fall into stereotypes. Toby, the Dom in this story, is smaller, younger, and less experienced—both sexually and in terms of kink. He also bottoms.
I'll admit that my ideas about dominance and submission were so firmly entrenched prior to reading this book that I thought Laurie was being indulgent in the first few chapters. I totally failed to pick up on his genuine attraction to Toby because I couldn't imagine it—the mature, experienced sub feeling the pull of dominance from a callow man-boy. Future readings (and there have been many future readings) have shown me that Hall lays down the necessary groundwork here. It was my own prejudice that kept me from seeing it.
What has lingered most resolutely about For Real in my mind, though, is the specificity of Toby and Laurie's kink. These two are doing BDSM their way, including Laurie's disinterest in using conventional safewords. This wouldn't work for every couple, but Hall shows it how it works for them when Toby gets cornered into playing with Laurie publicly. The resulting scene, in which no safeword is ever used, is one of the most moving safeword scenes I've ever read.
As a result, I always consider how the couples in my BDSM stories use safewords. In Deep Under, for example, Jack and Maddox's use of the standard stoplight terms (red/yellow/green) evolves as a metaphor for their deepening relationship, to the point that Jack says green instead of I do at the altar.
Some of the language is Finding Eden is gorgeous, and the sex scenes are smoking, but what really stands out for me are the characters. Danny and Paul are three-dimensional, having complicated relationships with each other and their kink. They've loved each other for a long time, but in different ways.
Paul is pain slut who also enjoys submission and erotic humiliation. Danny's a natural leader with a cruel streak who's just learning that his innate personality might make him Paul's perfect top. Danny's had a romantic attachment to Paul since their teen years, so this should be an easy HEA. There's just one catch: Paul's straight.
Paul's also already got a soulmate, a true love, the one who got away. And it's not Danny. While Danny tortures Paul's body, Paul is torturing Danny's heart, as Danny is constantly reminded that he's not the one Paul really wants.
In too many romances, both BDSM and vanilla, the main characters have no significant romantic past. Whatever might be back there, it's forgettable and forgotten. In real life,  how many of us don't have past loves and losses we bring into every new relationship? In the case of Danny and Paul, the ghost becomes living flesh again in book three, making their journey to a relationship that's as mutually fulfilling out of the bedroom as in the bedroom even more complicated.
In my book, Aftershock, Syed's lost love doesn't turn up again (he's dead, not just gone), but Jamie plays a major role in the story, both in terms of Syed needing to reconcile his new feelings for Dashiell with his ongoing love of Jamie, and also in the way Dashiell negatively compares his own intolerance for pain to Jamie's high tolerance, thinking, like Danny does about Paul, that he can never be what Syed truly wants.
But as Danny and Paul show us in Finding Eden, a new partner might also mean a new power dynamic. Paul's demand for kink would never have been satisfied by his lost love, regardless of how much he loved her, and Syed's experiences in the aftermath of Jamie's murder have changed the way he looks at violence. No, we can't recapture the past, but do we really want to?
Benched by Misha Horne
I call Misha Horne "the Queen of Spanking," and my favorite of her M/M spanking stories is definitely Benched, a series which plays out over several installments, aka "innings." Benched tells the story of Kyle, a hotshot college baseball player who needs to be taken down a peg, learning that he loves to be spanked and humiliated. The series starts with scenes in which Kyle is spanked by an authority figure in a dubcon situation (Kyle's coach, for disciplinary reasons) but as the story progresses, Kyle transitions to a consensual discipline-based relationship with a peer.
All of Misha's stories emphasize communication. Her characters learn about their kinks and how to express them in healthy ways. But I'll admit that I also enjoyed the less-healthy scenes that started this series. (Kyle enjoys them as much as I do.)
Misha has released a few more books since I first came across the Benched series, but it was wishing she'd turn out more, faster that had me writing my own spanking stories. In fact, there are definite parallels between the plot of Benched and the plot of my first spanking story, Owned (initial kink discovery coming from a dubcon incident with an authority figure, moving towards a mutual understanding with a peer), but Misha wins for sweetness and communication.
Another thing Misha does well is make being kinky OK. The love and care with which she treats new kinksters is beautiful. No kink shaming here, even when humiliation is part of the kink. Her insistence that whatever you want is fine—let's just talk about it—informed a key moment in my second spanking book, Pledged. Of course there's room for all approaches (sometimes people get off on being told they shouldn't get off on what they're getting off on) but I particularly appreciate Misha's.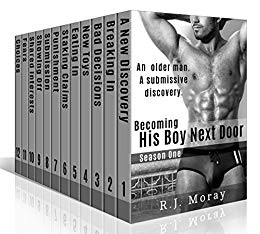 At first glance, His Boy Next Door is your average serialized erotica, better written than most. That was certainly how I approached the first few episodes, and if that's all you're looking for, you'll get it in spades. But as the kink sucks you in and keeps you reading one episode after another, behind the kink a romance starts to bloom.
Channing, the young sub new to BDSM, falls hard and fast for his Sir. Not surprising. He's young and easily influenced, where Jack is powerful and urbane. Channing is experiencing new feelings, opening up to both his sexuality and his kink, and Jack is the one taking him there. The power imbalance is huge, and in the wrong hands might become too concerning to enjoy.
But Moray handles it deftly, firstly by acknowledging it. Jack himself, with additional prompting from his friend Nate, keeps "the campsite rule" as Dan Savage calls it (leave it better than you found it) in mind as he starts arranging Channing's life, both sexually and otherwise. And then Jack starts to fall in love. And we get to watch that unfold in slow, real time. At the end of Season Three, I'd go as far as to say that Jack's now more besotted with Channing than the other way around.
Another special aspect of His Boy Next Door, similar to For Real, is that the author has put a lot of thought into what aspects, specifically, of BDSM her characters enjoy. It's not one-size-fits-all. Channon wants to please Jack. Aside from that, he physically enjoys a lot of what they do. But not all of it. Jack's more of a sadist than Channon is a masochist, and Moray shows us how that difference in their interests is negotiated—how Channon enjoys submitting to pain because it pleases Jack, and how Jack tempers his sadism to please Channon.
When I wrote about Derek, the sub in Mine who's much more of a submissive than a masochist, and his unfolding relationship to Amanda who's a definite sadist, I faced a similar challenge. Derek wants to take all of what Amanda needs to give, because he doesn't want her turning to another sub and because it's Amanda who's handing it out, but Amanda has a harder time reconciling herself to hurting someone who isn't getting a sexual charge from the pain itself but rather from his submission to it.
However an individual Dom and sub negotiate their respective kinks, seeing it negotiated on the page is far more satisfying to me than a standard kneel/Sir/cuff/whip/fuck scene.
The opening seduction scene of Takeover is perhaps one of the hottest BDSM scenes I've ever read without there being a lot of explicit BDSM play. There's some minor bondage and a hand spanking. That's it. The heat comes from dialogue, attitude, character, and tension. It's a great counterpoint to stories that up the kink level by upping the damage. Sometimes all it takes is a simple command, given and heard.
After the opening scene, which takes place during vacation at an island resort, Takeover transitions back to real life, as must we all. The rest of the book is a more complicated negotiation of real life identities.
As mentioned above with respect to safewords and pain play, BDSM isn't one-size-fits-all, and one aspect of the lifestyle that needs to be agreed on between the players involved is how far out of the bedroom power play extends. In Takeover, the Dom reports to the sub at work. Sam is a high-powered executive with a job to do. Michael's no slouch either, but he's not Sam's boss in any sense of the word outside of their sex life.
Sam is all masochist with very little submissive. He'll obey sexually, but mostly because that gets him what he wants, which is the pain Michael can deliver. Michael doesn't mind doling it out—not at all—but he also has a strong need to take care of Sam. The service in this relationship goes mostly in the direction of Michael serving Sam.
As a person who has an understanding of how pain can feel like pleasure but no desire to call anyone the boss of me, I relate to subs like Sam. Most especially, I want to see submissives who know their own strengths and when to use them. I also love Doms of both stripes—the kind that get sadistic enjoyment from ruling with an iron fist and the type who mostly want to make their sub happy.
In my book Aftercare, for instance, Garrett is an attorney—Aayan's brother's attorney, to be specific. When Aayan tries to dictate how Garrett will handle his brother's case, that's a firm no from Garrett. Aayan might occasionally want to control Garrett's behavior outside the bedroom, but inside the bedroom, he's there first and foremost to serve Garrett, to take away whatever pressures have Garrett bound up and replace them with peace, just like Michael does for Sam.
Grif's Toy by Joseph Lance Tonlet
So, wow, Grif's Toy is dirty and hot and wrong and delicious. If emotional sadism isn't your kink, you're not going to like this one, because the Dom likes making his sub cry—not just from pain, but for real. And the way he does it is through a lot of SPH.
Which stands for Small Penis Humiliation for those of you not familiar with that particular kink. Which I'm going to admit isn't really my thing.
And yet, this book is amazing—both sexually and emotionally. Talk about two people perfectly complimenting each other's kinks. SPH might not be my thing, but it's absolutely their thing, and the communication surrounding their play allowed me to feel comfortable watching them enjoy it.
In book two, the SPH leads to long term chastity, wherein I discovered a kink I didn't know I had. That book led me down a rabbit hole of discovery into the twisted world of chastity Tumblr. Grif and Wes get off on Wes teasing Grif about the size of his instrument, but also on denying Grif any use of it. Through their story, I learned that while SPH itself might not be my thing, extreme denial very much was.
And thus Locked, my chastity story, was born. As with Grif's Toy, Locked will only to appeal to those who are interested in going pretty deep into kink, but as Wes and Grif show us, all kinks are fine when consensually agreed to. Grif's Toy is an excellent example of how something that many of us might consider a nightmare can paradoxically be a source of pleasure and the basis for a happy, committed relationship. Couples who kink together stay together!
About Tanya Chris
Tanya writes romance, including both vanilla romances and romances with a range of BDSM elements, under the name Tanya Chris. She also writes kink-heavy erotica under the name T. M. Chris. Here are links to the titles mentioned above: